Providing dignity and identity to those living with disabilities is at the core of Unhidden's mission. Learn more about this adaptive clothing brand that featured at London Fashion Week.
After studying fashion, Victoria Jenkins helped design clothes for major brands. Though they were stylish, Jenkins often found herself disappointed. The clothing had limitations for people living with disabilities, and for Jenkins herself, they were too uncomfortable to wear because they were often too restrictive.
But she didn't realize that other people were also struggling until she met another patient during a hospital stay.
Join the free IBD community!
Connect with thousands of members and find support through daily live chats, curated resources, and one-to-one messaging.
The starting point
In 2016, Jenkins was hospitalized as a result of multiple digestive conditions. In the next bed was a woman who had survived ovarian cancer, but the chemotherapy had left her with significant bowel injury, requiring the use of a colostomy bag that collected waste.
The woman also had lines in her arm to deliver medication and was in the hospital to have a chest port fitted — one more device that makes it easier to give medicine but is also situated in a place near the collarbone that's not easily accessed without disrobing.
"Every time the doctors came around, she had to remove all her clothing, usually in front of a team of doctors," says Jenkins. "It was humiliating for her, and I couldn't bear to see it. She told me that even out of the hospital, pajamas and loungewear were her only choices but she wished she could dress in nicer clothes. I decided to put together a list of companies that had what she needed."
But Jenkins' search for adaptive wear came up with few results. That was when she decided to create her own clothing line — Unhidden — focusing on stylish and sustainable options that are also highly versatile for those with any type of need.
Clothing for every body
Until very recently, clothing designed for people living with disabilities has been geared toward older customers and is often for caregivers to make dressing a more time-efficient process. While those types of garments are helpful, Jenkins says they certainly aren't geared toward being fashionable.
"Why shouldn't someone with disabilities have options that make them feel good about how they look?" she says. "It shouldn't have to be one or the other: You either have clothes you love wearing because they look great, or you have clothes that are adaptable. Unhidden is about having both."
At Unhidden, a simple t-shirt features a wrap design with zips at each front seam on top. This allows access to a chest or arm port and is easier for wheelchair users to put on.
An Unhidden silk shirt looks ready for any business meeting and is also very adaptable with sleeve openings, concealed chest openings, and a concealed front fastener. This makes it ideal for chemotherapy or radiation patients, people with different dexterity needs, or PICC line users. It also works for breastfeeding, adds Jenkins.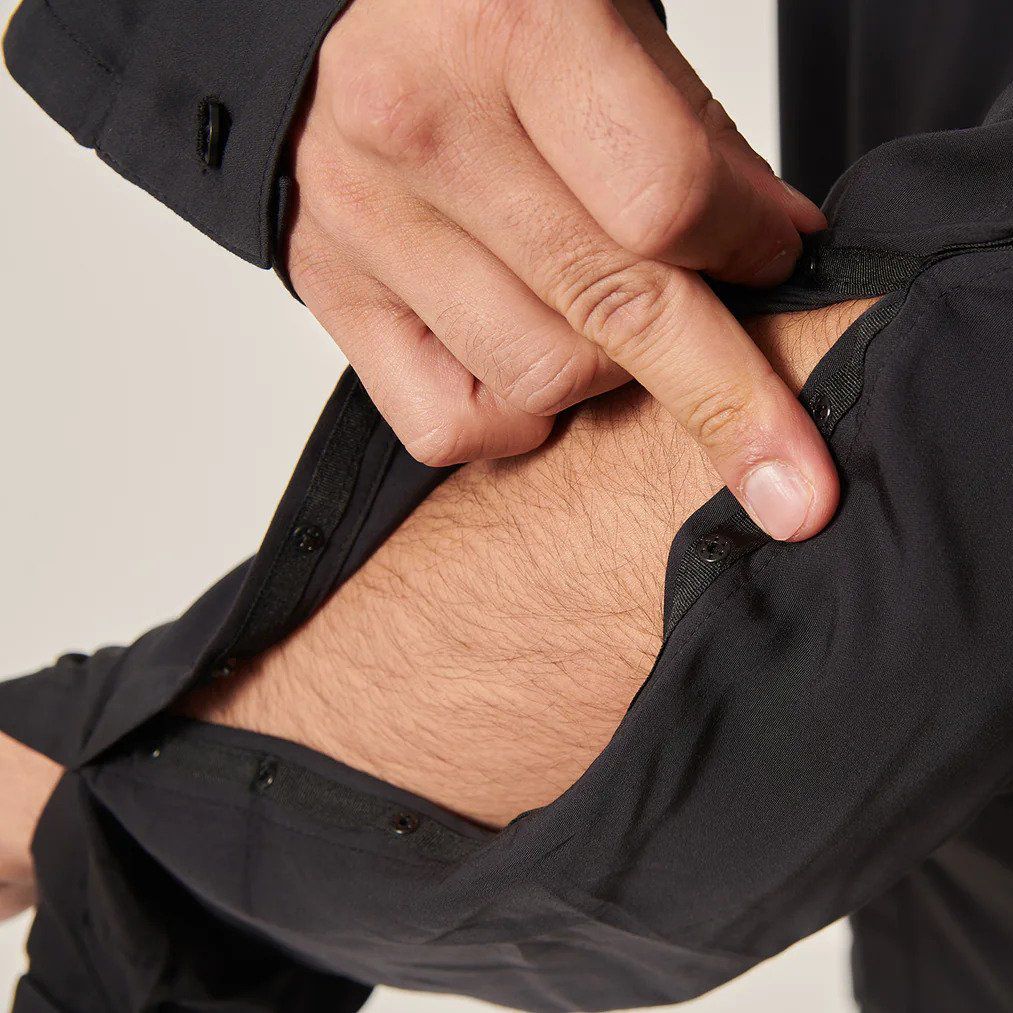 Pants are adaptive as well, particularly for those with IBD, reduced mobility, or people who use a wheelchair. For instance, the seated twill trousers, made for both men and women, have a longer back rise so they sit level at the waist, with less fabric around the front hip and the back of the knee, and a zip entry at each side as well as the hems.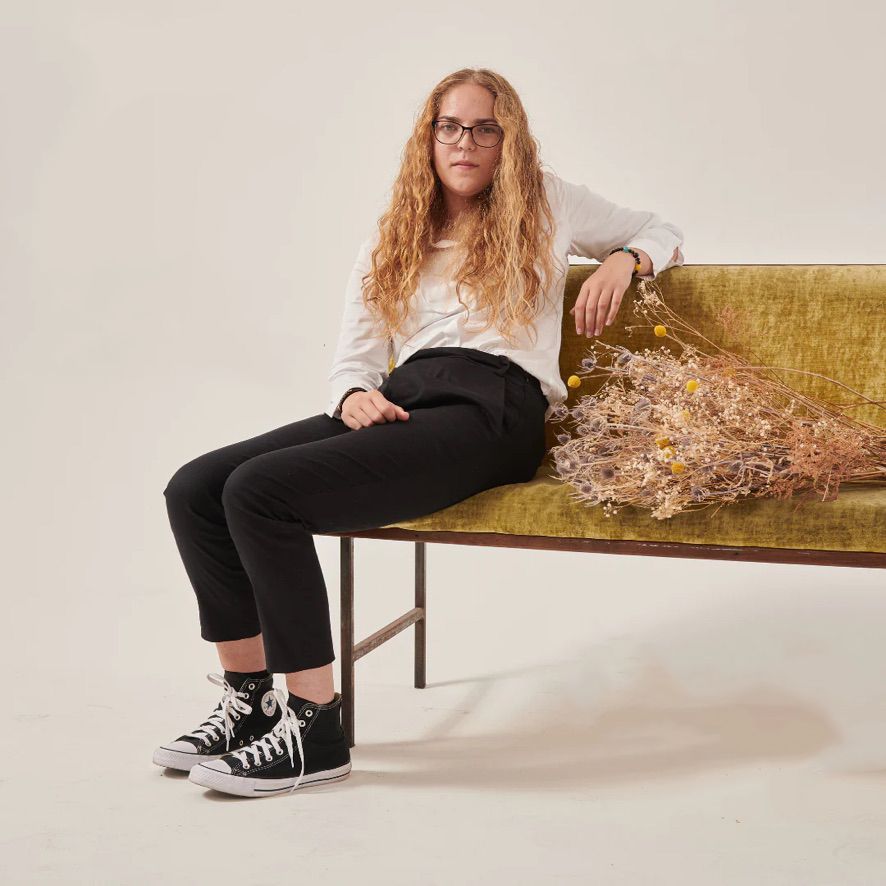 "These are designed to be very comfortable and also practical, so they can be worn anywhere," says Jenkins. From a job interview to a fancy dinner, Unhidden's collection imparts a put-together, stylish vibe that she believes gives the wearer more confidence — especially because they won't need to undress just to meet their medical needs.
And true to their inclusive mission, all of their clothing is available from a 2XS to a 6XL. This is all about making clothing for every body.
Sustainability is also an important facet for the brand, Jenkins adds. The clothes are made in Bulgaria at a factory owned and run by women, using materials called "deadstock cloth," which are leftover fabric that's usually sent to landfills. She says there will be an increasing focus on sustainability as well as affordability, to ensure no one is excluded and that clothes can continue to be made in a way that reduces waste.
Next steps
Although Unhidden only launched in 2020, the brand has gotten a fair amount of traction and attention since then, including a pop-up shop on Oxford Street, making it the first adaptive brand sold on a London high street. It's also the first adaptive brand to become a member of the British Fashion Council.
Earlier this year, Unhidden debuted at London Fashion Week with a whole host of new designs and adaptive features that are now available to pre-order.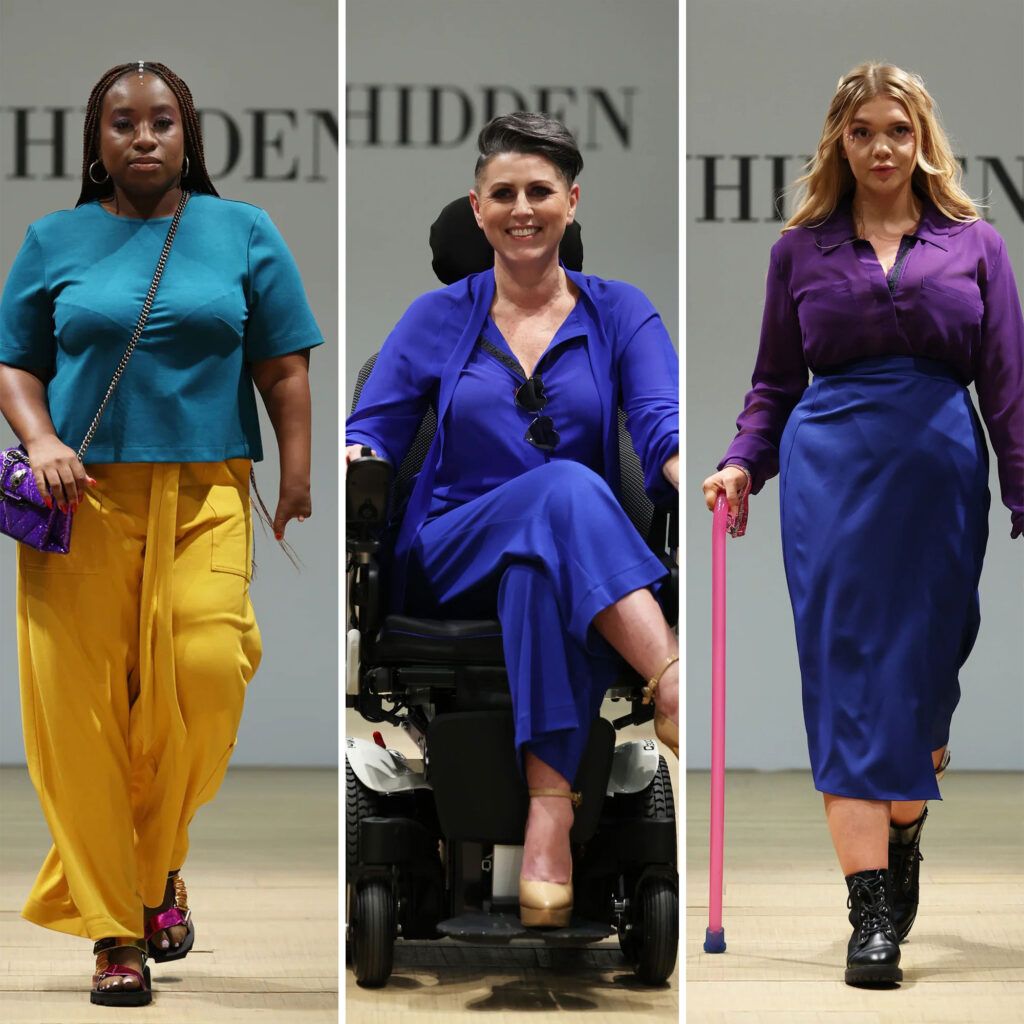 Looking ahead, Jenkins is hoping to find ways to teach customers to adapt clothing they already own and to develop a network of seamstresses who can do that type of work.
Jenkins is also fuelling the effort through a Kickstarter campaign that has already raised over double its initial target amount, and she's written an eBook called "The Little Book of Ableism" that compiles examples of ableism to show how people can be better allies.
Her Ted Talk, "How to Fight Ableism Through Fashion" is an in-depth look at how ableism is built into society on a structural level and the ways that fashion can be part of the effort to make the pivot that would benefit everyone. That blend of adaptive clothing, sustainability, and education is what Unhidden is all about, she notes.
"This isn't just about clothes," says Jenkins. "It's about giving disabled people dignity in their wardrobes and the freedom to express identity just like everyone else."