The artificial intelligence chatbot makes some solid suggestions for a diet plan for Crohn's, but they might be overly restrictive.
By now, you've most likely heard about — and even experimented with — ChatGPT, an artificial intelligence (AI) chatbot.
It uses machine learning algorithms to generate human-like, conversational responses to basically any question you ask, and it does it fast. It can write a poem or essay, solve math equations, translate between different languages, and even suggest a vacation itinerary. But what about coming up with a diet plan?
ChatGPT can answer questions related to nutrition as easily as those about what to do in New Orleans. Because of this, people may be interested in using ChatGPT as a sort of virtual dietitian to help them devise safe and effective meal plans for medical conditions such as Crohn's disease, a type of inflammatory bowel disease (IBD).
But even though ChatGPT can be helpful, it's important to remember that its knowledge base is limited (it goes only as far back as 2021) and it should never take the place of advice from a medical professional. Any recommendations given by ChatGPT should be double-checked for safety and nutritional adequacy by a healthcare professional.
With that in mind, I asked ChatGPT to come up with Crohn's-friendly meal plans and then analyzed the recommended meals to see whether ChatGPT could be used to develop diets for people with IBD.
Join the free IBD community!
Connect with thousands of members and find support through daily live chats, curated resources, and one-to-one messaging.
General diet recommendations for Crohn's
If you're living with Crohn's, you're probably well aware that dietary advice for this condition varies widely depending on who you ask. While there's no specific diet recommended for all people with Crohn's disease, healthcare professionals and wellness enthusiasts often advise specialized diets, such as vegan diets or very low carb eating patterns such as keto.
There's also conflicting information online as to whether people with IBD should follow a high fiber diet or avoid high fiber foods.
Most articles outlining Crohn's-friendly diets on popular health and wellness websites focus only on how to eat during a flare — a period of increased disease activity when you might have symptoms such as diarrhea, abdominal pain, bloating, gas, fever, weight loss, anemia, and loss of appetite.
Articles often neglect to cover dietary tips for people in remission — a period when your symptoms are less intense and disease activity is low.
It can be difficult for people living with Crohn's to find evidence-based dietary advice online, which is why some people may be tempted to turn to ChatGPT for a Crohn's-friendly menu.
Everyone living with Crohn's disease is different in terms of their dietary needs, food preferences, and intolerances, so it's difficult to make sweeping recommendations about the "best" eating pattern for Crohn's.
But certain diets, such as plant-based diets and the Mediterranean diet, have been shown to promote the overall health of people with Crohn's disease. And limiting certain foods — both when you're in a flare and when you're in remission — can benefit your health and reduce symptoms.
In addition, during a flare, it's often advisable to avoid high fiber foods, dairy, whole grains, and sugary, high fat, or spicy foods.
It can be difficult for people living with Crohn's to find evidence-based dietary advice online, which is why some people may be tempted to turn to ChatGPT for a Crohn's-friendly menu.
If you're in remission, you can follow whatever nutritious, well-rounded dietary pattern helps you feel your best. In general, a healthy diet is one that's rich in whole foods such as vegetables, fruits, healthy fats, and protein sources like fish and beans.
Some people with Crohn's may feel better on a plant-based diet, while others may feel their best when following an animal-based high protein, low carb diet.
Some people in remission from Crohn's may benefit from cutting out certain foods or ingredients, such as gluten, dairy, and high FODMAP foods.
It's also a good idea to prioritize foods high in anti-inflammatory compounds, such as omega-3-rich seafood and antioxidant-rich fruits and vegetables, if you can tolerate them. (Fruits and vegetables tend to be high in fiber and may also be high in FODMAPs.)
Because everyone responds to foods and ingredients differently, It might take some time to develop an eating pattern that helps you feel your best and manage your Crohn's symptoms.
ChatGPT's dietary recommendations for Crohn's
If you ask ChatGPT to give you a diet plan for Crohn's without providing any additional information, it will recommend an eating pattern that's best suited for someone who's in a flare.
I decided to be more specific and ask ChatGPT to recommend a 2-day menu for someone who is experiencing a Crohn's flare as well as a 2-day menu for someone with Crohn's who is in remission.
ChatGPT menu for a Crohn's flare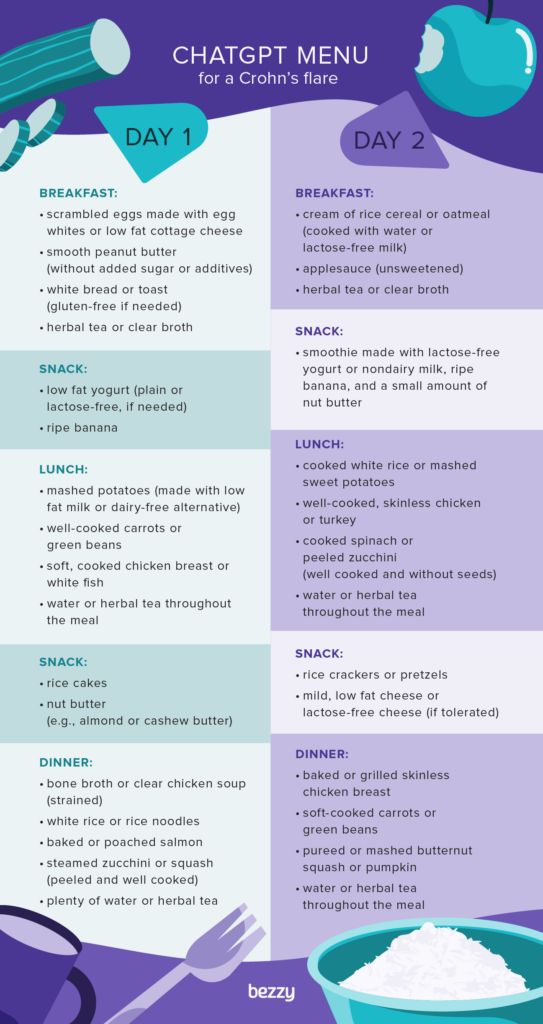 ChatGPT also recommended staying hydrated throughout the day by drinking plenty of water and advised that people with Crohn's work with a healthcare professional or dietitian to create a personalized meal plan that suits their specific needs.
Nutritional assessment
Overall, I think the ChatGPT recommendations for eating during a Crohn's flare are evidence-based and similar to recommendations made by the Crohn's and Colitis Foundation, which may be because ChatGPT scours the internet, including reputable medical websites, to generate its responses.
The Crohn's and Colitis Foundation recommends prioritizing high protein foods and cutting back on fiber-rich foods that may worsen symptoms. ChatGPT also advised drinking fluids throughout the day to stay hydrated, which is important for those who are losing excess water due to flare symptoms such as diarrhea.
How I'd improve it
Even though the menu was reasonable and may be helpful for many people experiencing Crohn's flares, it may be too restrictive for some. Some people with Crohn's may not need to follow such a strict meal plan during a flare, which is why self-experimentation is important.
Additionally, I would make small changes that increase nutrient intake, such as adding unsweetened pea protein and frozen blueberries to the smoothie and adding a scoop of collagen to the cream of rice cereal for extra protein.
Lastly, many people with Crohn's can't tolerate dairy, so I would recommend nondairy alternatives to the cheese snacks, such as canned salmon or tuna salad on top of low fiber crackers.
ChatGPT menu for a person with Crohn's in remission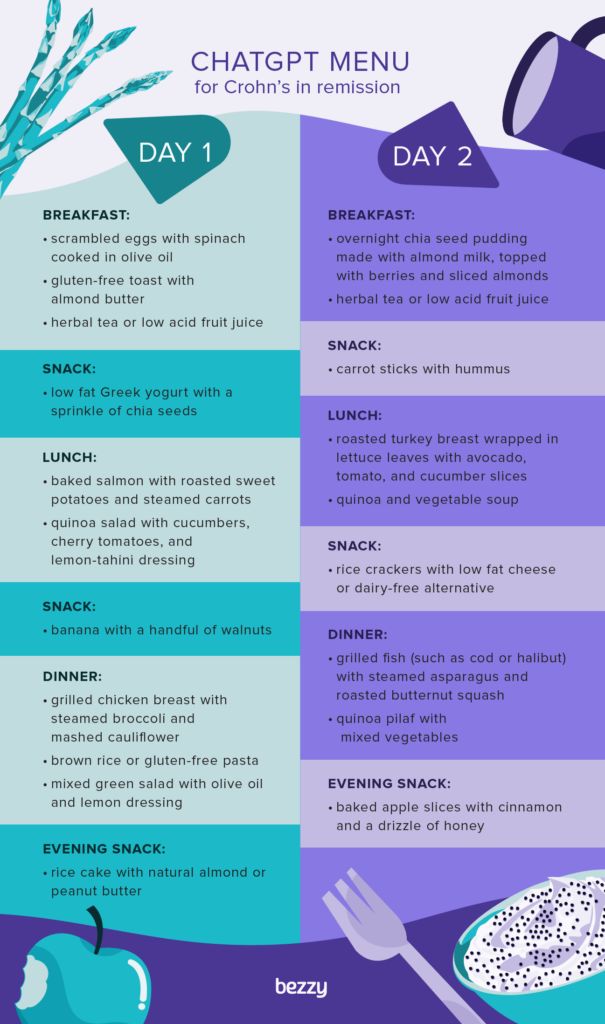 Nutritional assessment
There's nothing necessarily wrong with this meal plan, but it seems that ChatGPT tends to recommend specific foods to people with Crohn's, such as rice cakes and steamed vegetables, no matter whether they're in a flare or in remission. ChatGPT also seems to really love quinoa!
While these foods can be a part of a healthy Crohn's-friendly diet, most people don't have to limit their intake so significantly when in remission. For example, rice cakes are low in fiber, so they're safe when you're having a flare. But if you're in remission, you can choose other, more nutrient-dense grain options over rice cakes if you'd like.
How I'd improve it
I would swap out the rice cakes for something higher in protein and fiber, such as trail mix or a turkey stick paired with a piece of fresh fruit. For something different, you could try roasted chickpeas or edamame.
Also, steamed low fiber veggies are often recommended when you're experiencing a flare, but you can have your vegetables any way you like them when you're in remission, including roasted with olive oil or fresh, as long as you can tolerate them.
In general, most people don't have to choose low fat dairy products such as low fat cheese and fat-free yogurt. If you can tolerate dairy, it's perfectly healthy to enjoy full-fat cheese and yogurt. If you do need to avoid dairy, consider trying "Greek-style" or "protein-fortified" versions of alternative yogurts, since those made from oat, almond, or coconut "milk" typically have little to no protein.
Keep in mind that ChatGPT estimated the calories for this meal plan at 1,800–2,200 per day. While this might be suitable for some people, others may need fewer or more calories per day, depending on their health goals and energy needs. Also, eating three meals and three snacks might not be feasible or appropriate for some people.
The takeaway
Overall, I would add a greater variety of foods, including different fruits, vegetables, and grains, to this specific 2-day menu. But if you're living with Crohn's, it's essential to eat in the way that works best for your specific health needs, which may not look anything like this meal plan.
While ChatGPT's recommendations could be helpful for some people with Crohn's disease, it's best to get personalized nutrition advice from a healthcare professional whenever possible.
If you have questions about your diet or are having difficulty coming up with an eating plan that helps manage your Crohn's symptoms while promoting overall health, make an appointment with a registered dietitian who specializes in IBD.
They can assess your current diet and help you find a way of eating that suits your food preferences and dietary needs and helps you feel your best.